Wait! We Have a

Special Opportunity

for You
(The Video Below Will Blow Your Mind)
Claim Your 14-Day Unlimited Access to Our 'Flagship' Video Creation and Ranking Software For Just $1 Today
… and EXPLODE Your Video Marketing Business
vMarketerPro is our video creation and ranking software that allows you to quickly (and easily) create professional marketing videos for yourself, or your clients.

And then rank those videos in Google using our own unique, state-of-the-art technology and strategies.

Even better – Your new vRankerPro account will integrate seamlessly into vMarketerPro making 'creating and ranking' videos UNBELIEVABLY quick and easy.

IN FACT, with vMarketerPro you will be able to create your OWN vRankerPro Templates – For Any niche or keyword you like.
Throughout the Next 14-Days, and for a
Single $1 Investment,
You Will Be Able To…
Create UNLIMITED videos (using a 'Drag and drop', 'Point and Click' interface) and combining images, footage, text, transitions, call to action banners, voice-overs, text-to-speech, background music, Intro and CTA's, and logo branding.

Rank UNLIMITED videos in both Google and Youtube, using easy-to-use, highly innovative features.

Turn 1 Video into 10 Unique Versions then Optimize, Publish and Rank them - In LESS than 20 seconds (for the entire process)

Create 'Probing Videos' from scratch then Optimize, Publish and Rank them in LESS than 20 seconds (for the entire process)

Build Backlinks and Video Embeds to Boost Your Video Rankings Even Further
Track Your Google Rankings for Up to 30 Different Keywords, DAILY

Analyze Your Competitors Videos and Youtube Channels

Access Our Keyword Analysis Features

Access Our 'Thriving' Private Members Group where you can connect with other vMarketerPro members, engage with our team, LEARN, and ask questions.

Access Our Training Videos and PDFs. Our training area is comprehensive, and we are adding to it frequently.

Integrate Your vRankerPro Account and Use Your LOCAL Keyword Templates to Rank Your Videos, Seamlessly

Create your OWN ranking templates for ANY niche or keyword, and apply them to ANY location of your choice.
With vMarketerPro You'll Be Able to Effortlessly
Create Page 1 Google Rankings Like these
and Pitch the Results to Offline Businesses
Google Placements that they'll Gladly Pay for!
We Have Been Developing and Improving vMarketerPro
Since Early 2016, and it Just Gets Better and Better
Here's What Some of Our Existing Members
Say About Our Software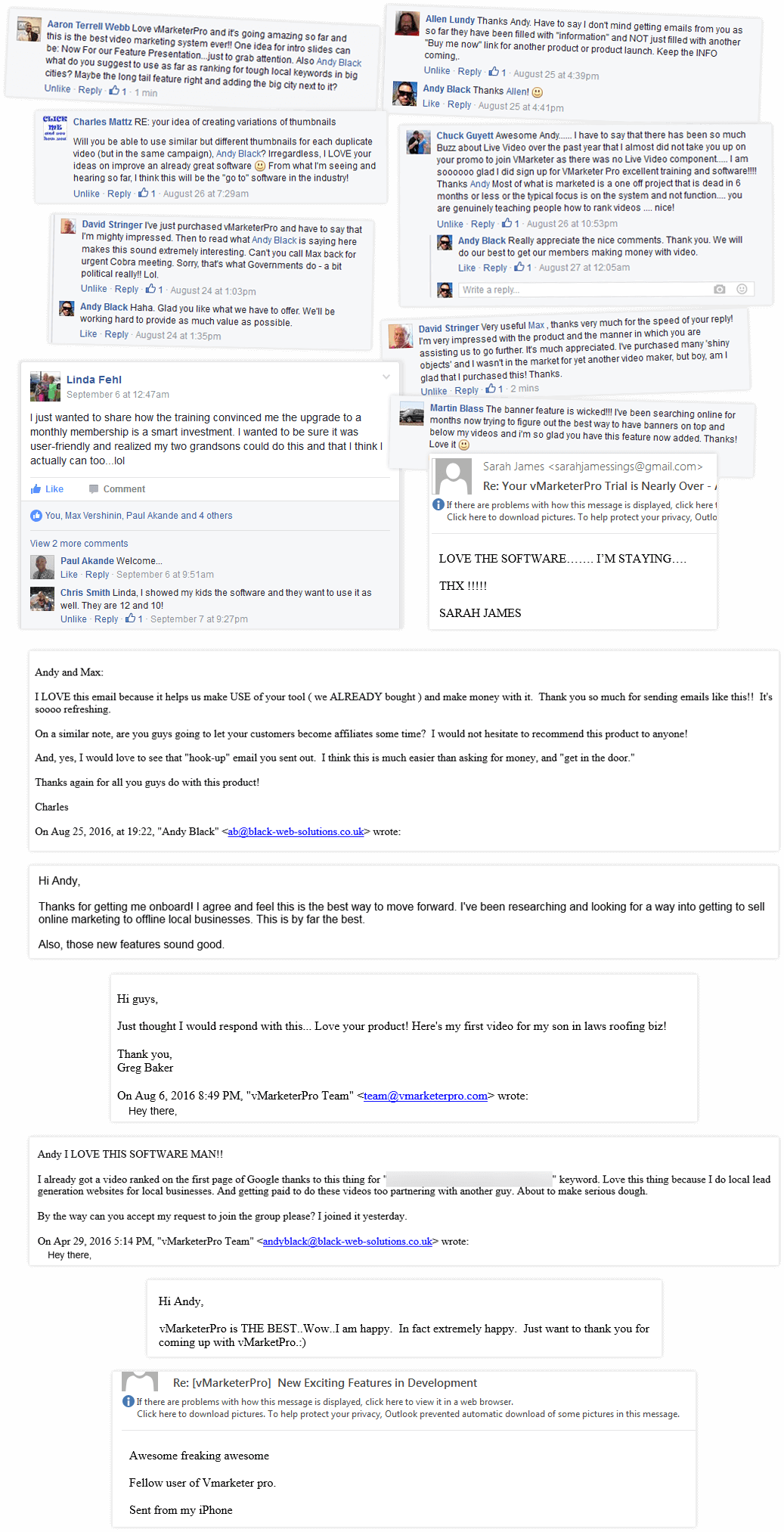 As You Can See by The Many Comments Above, Our Members Are Ranking Videos and MAKING MONEY
Here Are Some Example Videos that Were 'Quickly' Created Using vMarketerPro
What If We SHOWN You 'Over the Shoulder' Style, EXACTLY How to Use vMarketerPro?
Straight after this launch we will be hosting one or two LIVE training webinars where we will show you HOW to use vMarketerPro from start to finish.
How to create videos (Including all bells and whistles so you'll become a PRO!)
How to quickly multiply your video to create different, unique versions, and then instantly rank them ALL in Google for LOCAL keywords
How to create 'probing' videos and rank them in Google using our brand NEW 20 second process
After attending our LIVE training webinar you will know how to use vMarketerPro inside out, and will be able to start using our system to EARN MONEY
We're here to help you succeed, and if you join us today we will do our utmost to make sure that happens
Remember, to get instant access right now, to our
complete system,
you only need to invest
$1 right now
After your 14-day trial is over, you will be charged only $47 per month
Please note you are able to cancel your subscription at any time before, or after
P.S. - If you decide that our software isn't for you, then you can cancel within the 14-day trial period and will not be billed another cent.
Copyright 2017. vRankerPro. All Rights Reserved.